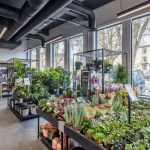 Houseplant Table Arrangement (Metal Frame with Timber)
Houseplant Table Arrangement (Metal Frame with Timber)
Description
Houseplant Table Arrangement (Metal Frame with Timber)
SKU: Z0728-0729-0730
Our Houseplant retail display range offers the perfect solution for merchandising houseplants, indoor plants, plant pots and linked sales and has been designed to maximise display space and boost sales!
The Metal Frame / treated timber houseplant table arrangement includes 3 tables at varying heights with plywood bed and treated timber surround.
Features
• Removable plastic flood trays allow for easy care so you can be sure your plants are kept in the best possible condition.
• Lower shelves offer space for merchandising plant pots, plant feeds linked sales and other sundries (750mm H and 600mm H come with lower slatted shelves)
Product Details:
• Clear lacquered mild steel frame (Bespoke powder coat paint colours available)
• 120mm x 27mm plained Treated Timber surround (Painted timber option available)
• Aluminium corners.
• 1 x black plastic flood tray per table (1m x 1m external dimensions)
• Supplied fully assembled
Dimensions:
Width: 1054mm x Depth 1054mm top (External Dimensions)
Bed Height:
• Table 1 Bed Height 450mm
• Table 2 Bed Height 600mm (includes lower shelf)
• Table 3 Bed Height 750mm (includes lower shelf)
The table arrangement can be used individually or combined with other products from the houseplant range to create a stylish and versatile retail area to maximise merchandising space and boost sales! click here to view our full range of houseplant displays!