Are you looking to update your Retail checkouts, service counters or reception desks?
Service Counters, Retail Checkouts and Reception Desks are vital for customer experience! They can be the first and last interaction the customer will have with your business and offer an opportunity to boost sales, engage with your customers and make an impact!
Our personalized approach ensures that your finished product is both functional and aesthetically pleasing, so you can rest assured that you're getting the best solution for your needs!
Our bespoke service can cater for a wide range of use cases including Bespoke Shop Counters, Garden Centre help desks, Custom Retail Checkouts, Service Counters, Reception Desks, Coffee Shop Counters, Butcher & Deli Counters, Reception Desks, Florist Counters, Gift Shop Counters and much more!
Whether you're looking for a modern, contemporary look or something more traditional, We can design and build the perfect solution to suit your needs!
We understand the importance of having the right retail checkout, service counters and reception desk systems that meet your needs and we are committed to providing you with the highest quality product.
Our design team are on hand to discuss your requirements and provide a number of options catered to your brief, budget and retail space.
We can also create detailed renders and 3D drawings to ensure you get the design and finish you require.
Our manufacturing facility is equipped with modern machinery including a 3-axis Biesse Rover k ft 2231 CNC panel machine, experienced craftsmen and assembly teams!
Our onsite logistics team will arrange delivery for your order, installation service also available at extra cost.
CHOOSE FROM A WIDE RANGE OF MATERIALS, COLOURS AND FINISHES!
Contact us to discuss your needs! Our dedicated design and sales teams will be able to advise on the right product for your needs!
Our sales team will be your point of call from enquiry through to delivery! They will facilitate your order and help find the best solution for your needs. A Deposit will be required before design and manufacture will commence!
Receive your Designs and sign off before manufacturing commences!
We can also provide installation service where needed!
Contact us today to discuss your Needs!
Latest Retail Display & Shop Fit Case Studies!
RECEPTION COUNTER
CAFÉ & COFFEE SHOP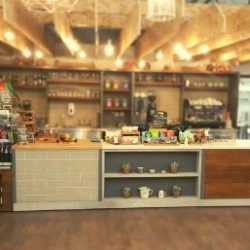 Shop Counters & Checkouts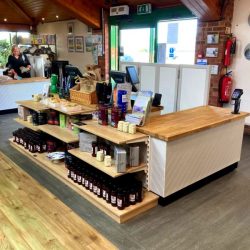 Deli & Butchers Counters
Fast Food Counters
Gift Wrap Counters
Florist Counters
Retail Checkouts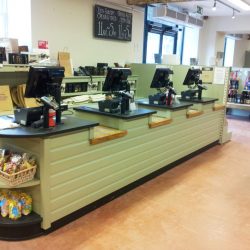 You may also be interested in our other retail display products and services!
bespoke butchers counters, bespoke checkouts, bespoke commercial coffee shop counters, bespoke counters, bespoke reception desk, bespoke retail checkouts, bespoke retail counters, Bespoke Retail Stand, butchers counter, checkout manufacturer, clothing shop counter, Coffee shop counters, counter display cabinet, counter display stand, counter display unit, Counters, custom butchers counter, custom coffee shop counters, custom fast food counters, custom gift wrap counter, custom reception desk, custom retail checkouts, custom retail counters, designer counter for shop, display counter for cloth shop, display counter for shop, display counters for retail stores, fast food counters, florist counter, florist wrapping counter, footfall counter for retail, gift wrap counter, grocery store counter for sale, modern retail checkout counters, modern retail counter, reception desk, retail & shop counters, retail counter display, retail counter display cases, retail counter display design, retail counters for sale wholesale, retail shop counter for sale, retail shop counters and checkout manufacturers, retail shop counters for sale, retail shop till counters, retail till counter, retail till counter design, retail till counter manufacturer, retail wooden display units, rustic retail counter, rustic shop counters, service counter manufacturer, shop counter, shop counter display stands, shop counter display units, shop counter with shelves, shop counters for sale near me, shop display counter, shop reception counter, small convenience shop counter, small convenience store counter, store counter